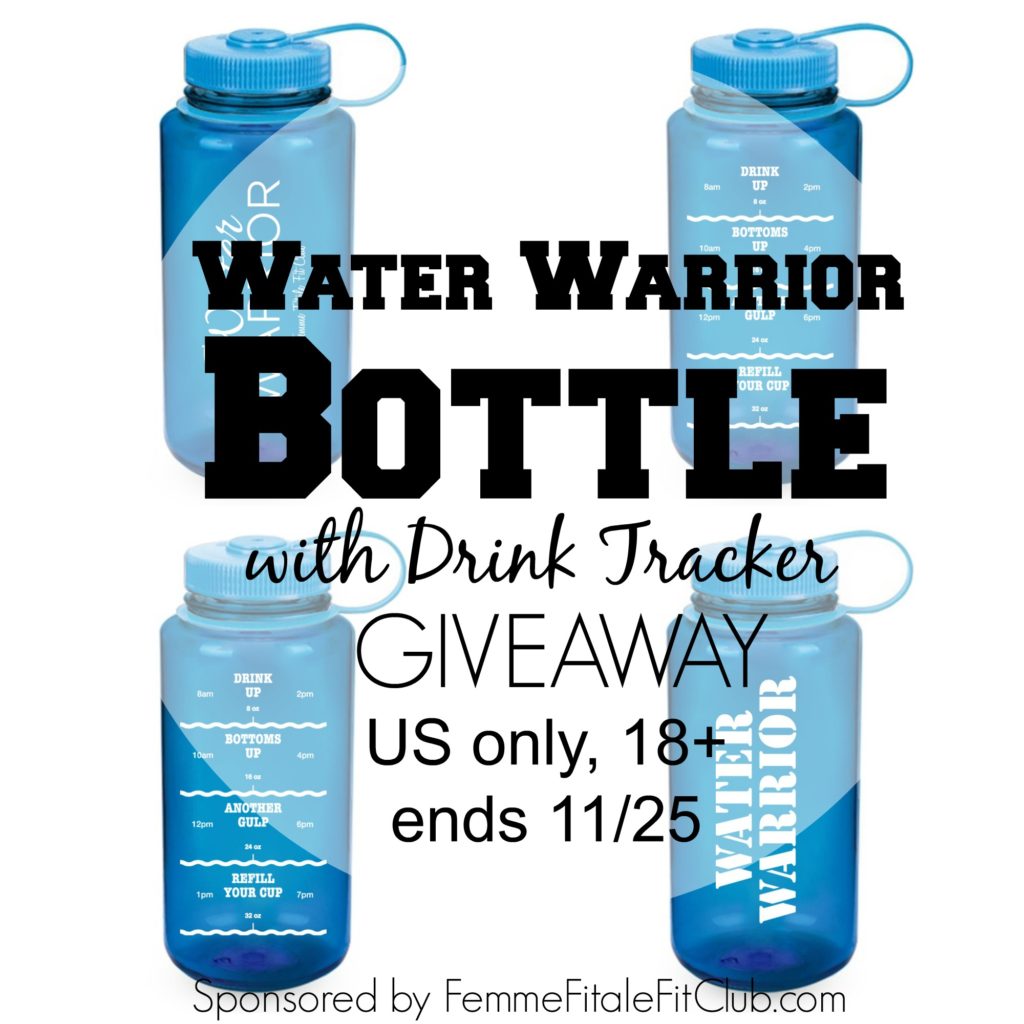 What's up Femme Fitales?  I am truly excited about this giveaway because I recently added a 34 oz Water Warrior Bottle with Drink Tracker to the lineup of premium Infusion Water Bottles with Drink Trackers.  This water bottle is so awesome because I was asked to offer a larger bottle so that folks didn't have to refill it as much so voila here you go.
These water bottles are really nice.  They are 34 oz each, BPA free, have a wide mouth to easily fill and drink from, and they come with a carry loop which is very convenient if you are out for a walk, hike or in the gym.  Just pick up and carry by the loop and there you go.
They come in 2 styles.  A softer lettering style with Femme Fitale Fit Club underneath and a more universal font style which men and women both would easily embrace.  Either way you can't lose.
You all know how much of an advocate of water drinking I am.  Our bodies are made up of about 70% water so it is imperative we stay hydrated.  If you don't know what dehydration can do to you read this article all about it.  Also check out some delicious infusion recipes you can make to spruce up the flavor of your water in either the smaller 26 oz bottles or our new 34 oz bottles.
Here's our water bottles in action.
So let's get on with the giveaway.
2 Winners, US only, 18+ ends November 25, 2016
We will have another Water Warrior challenge in the month of December 2016 on Instagram so make sure you have your bottle ready!!  Want one?  I know you do.  Enter in the giveaway form below.
Terms & Conditions: This giveaway ends on 11/25/2016. It is open to the residents of the United States only. There will be 2 winners.  Must be 18+ to enter.  Femme Fitale Fit Club will choose 2 winners no later than 11/26/2016 via Rafflecopter. The entries will be verified and the winners will be contacted via email. The winners have 48 hours to respond and claim their prizes. If the winners don't claim their prizes within 48 hours their prizes will be forfeited and new winner(s) will be chosen. By entering this giveaway you are abiding by all laws and regulations in your state.  Void where prohibited.