Hey Femme Fitales who is ready for the February Walk/Run Fitness Challenge?  I am so excited we are preparing for another challenge and trust me – this month's challenge will be the kickstarter for the March challenge but let me not get ahead of myself.  February's Walk/Run Fitness Challenge is all about getting your body moving to see how many steps you can walk/run/crawl the entire month.
It's a distance challenge so you can sprint it, walk it, jog it, hop it, crawl it – just move your body forward and collect some steps and mileage.  We are going to keep this simple so here are the details:
Sign up for the Fitness Challenge HERE  (if you haven't previously) so you get motivation direct to your inbox
Make sure you have a reliable way (i.e. activity tracker, pedometer, pedometer app, etc.) to capture your daily step count.  I have a Fitbit Charge and it works for me.
Set a goal.  I recommend targeting at least 10,000 steps a day.  If you hit it you would have 290,000 steps by the end of the month
If you want to receive inspiration from others make sure you join our FREE private online accountability group
On a daily basis post your total steps for the day (on Twitter, Instagram or Facebook) and use hashtag #fffcsteps and tag me @FemmeFitaleFitClub so I can find you and check out your progress
Treadmill action:  Complete each of the workouts below 3 times a week for the appropriate week (do week 1, 3 times that week, week 2, 3 times the 2nd week in February, so on and so forth) – it starts slow and builds week to week
That's it.  Told you we are keeping this simple
Week 1 Walk/Run Treadmill Routine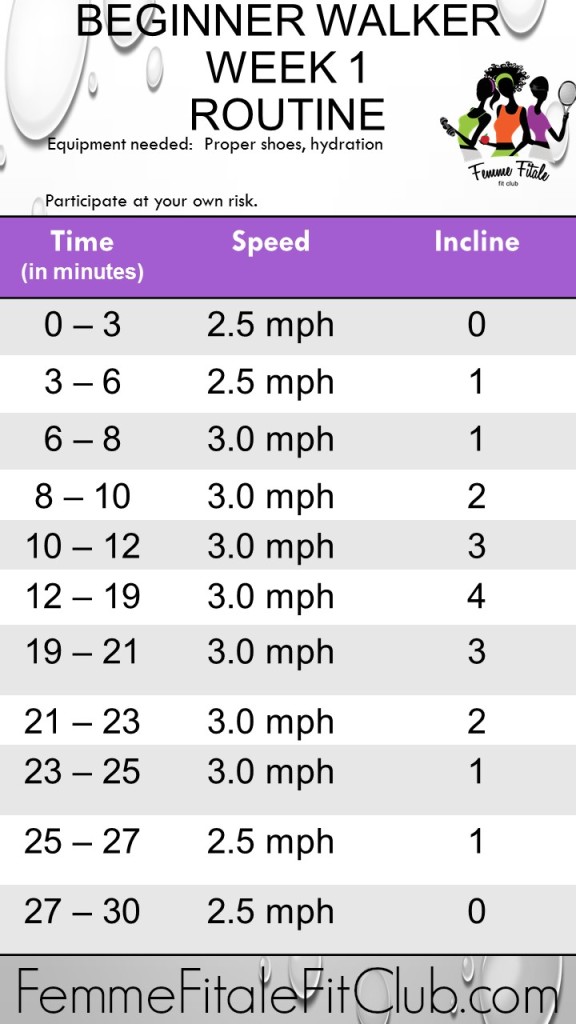 Week 2 Treadmill Walk/Run Routine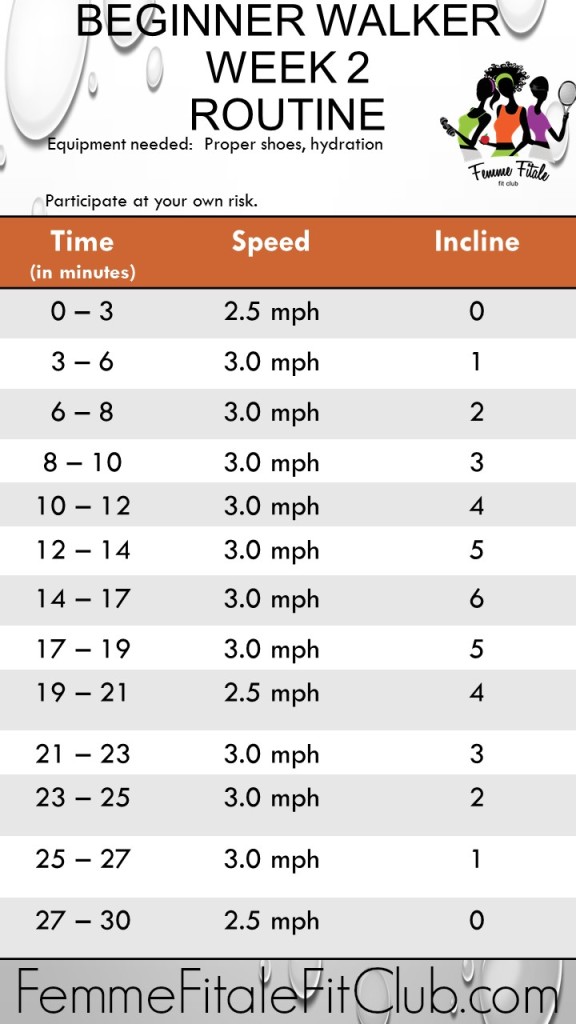 Week 3 Treadmill Walk/Run Routine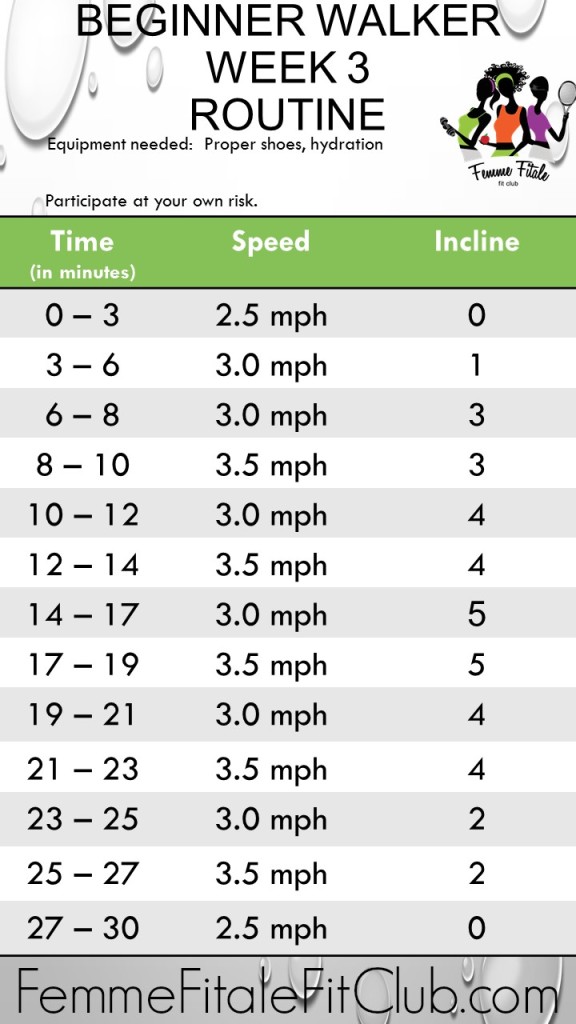 Week 4 Treadmill Walk/Run Routine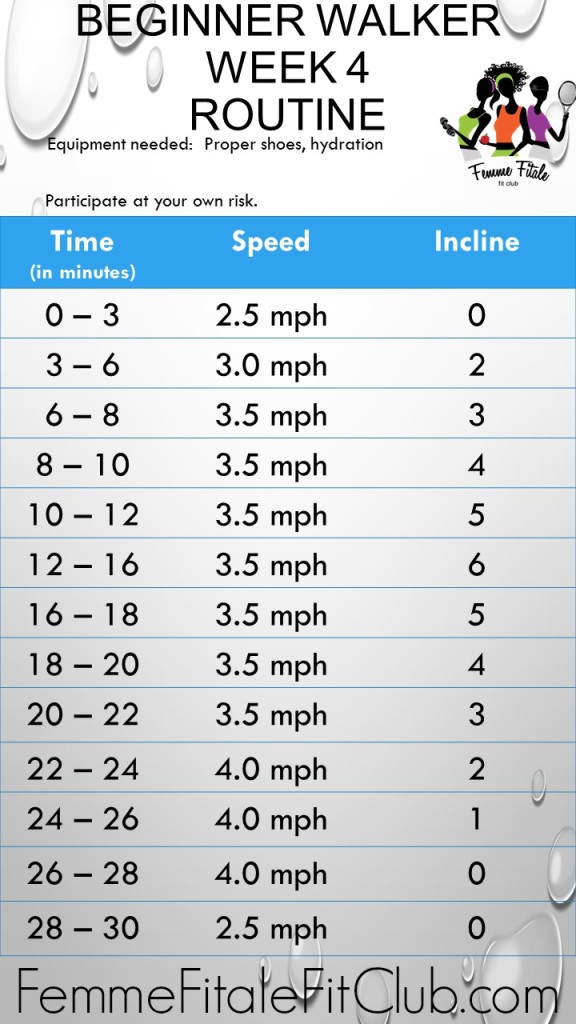 Steps To Success (pun intended):
Stay consistent – participate in this challenge consistently and don't leave room for excuses.  Just get up and go
Grab a friend if you don't want to do it alone, sign them up for this challenge (with their permission) and do this together
Even if you don't feel like it, get up and MOVE!
Walk, crawl, sprint, run, skip…..just move.
Drink plenty of water because it will help flush your body of impurities and replenish fluids lost through sweat.  Our premium Infusion Water Bottle with Drink Tracker is perfect for this and also helps you track how much water you're drinking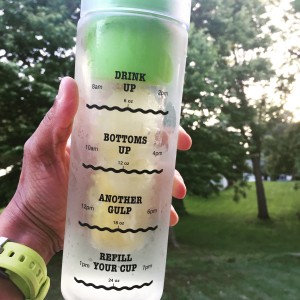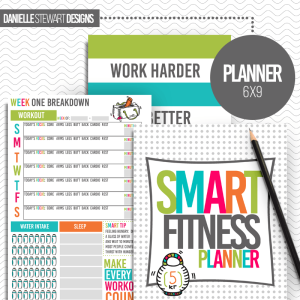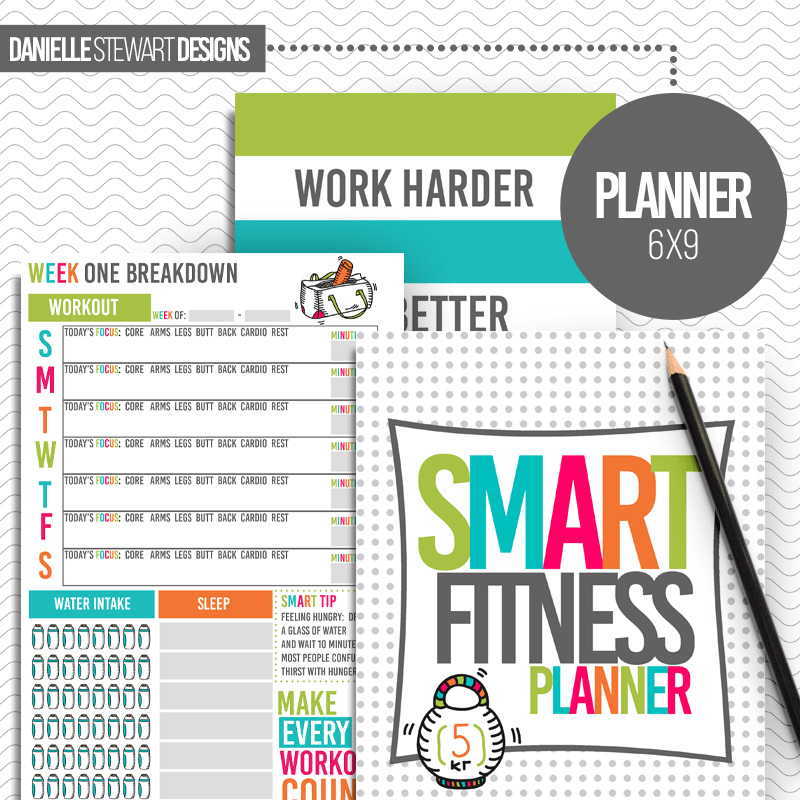 If you fail to plan then you plan to fail.  Track your workouts and progress with the SMART Fitness Planner.
That's IT.  Now make sure you sign up and get MOVING.
If you have a Fitbit join our community HERE.  Try to be that TOP line.  
And most of all – have FUN!!!!  Let's GO!
Disclaimer:  Femme Fitale Fit Club is not responsible for injury, loss of limb or life due to your participation in this challenge.  Participate at your own risk.  Always seek the advice from your physician before beginning any new workout or nutrition program.  This post contains affiliate links.