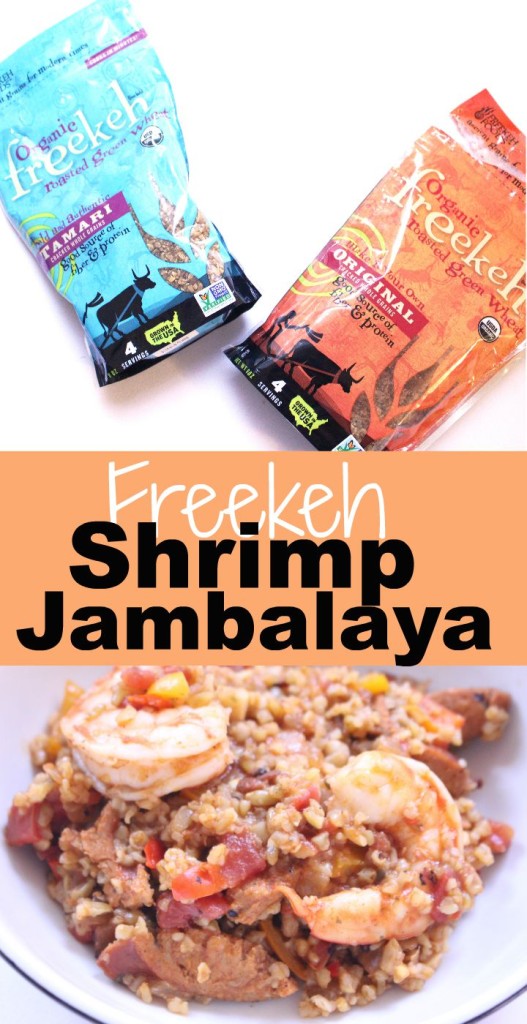 Disclaimer:  Freekeh Food was provided to me free of charge for the purposes of this product review and giveaway through my affiliation with Sweat Pink.  As always all opinions are my very own.  Now let's go #GetYourFreekehOn #LoveFreekeh #Freekeh.
Can you believe Summer is OVER and today's Labor Day?  You know what that means?  Even shorter days and cooler nights.  Which is perfect because Fall is my favorite season anyway.  That means we move into the mood for more heartier food like jambalaya.
This dish right here is a Southern favorite with a little twist, instead of rice we are using Freekeh grain.  What is Freekeh?  Well I'm glad you asked let me share a little about it before I go in on this recipe.
The word itself is Arabic for "to rub".  It's quite interesting how the grain was created.  A village in the Middle East was attacked and their crop of green wheat set on fire.  The village couldn't afford to lose the crop otherwise they would have starved so the local villagers took the burnt grain, rubbed away the charred pieces, cooked it and voila they created Freekeh grain and now it's being shared with the masses.  It's organic, contains 6 grams of protein per serving compared to white and brown rice and is only 130 calories per serving compared to quinoa and wheat with the lowest amount of carbs per serving compared to white rice, brown rice, quinoa and wheat.  It's nutrition packed.
Now that you've received a little history lesson, let me share with you one of their absolutely delicious recipes found in the Freekeh Cookbook which is a delicious change to a traditional American dish – JAMBALAYA.
Ingredients:
1 package-6 links chicken andouille sausage, diced and browned
2-3 large sweet peppers, diced
1 large onion, diced
10 garlic cloves, diced (modify to your tastebuds)
1 14.5-ounce can diced fire roasted tomatoes (including liquid)
1 8-ounce package cracked Freekeh (approx. 1 1/3 cups) (any variety of freekeh, Original,
Rosemary Sage or Tamari work well in this recipe)
2 1/2 cups vegetable broth
4 tablespoons olive oil
1/4 teaspoon cayenne pepper
1 tablespoon hot sauce you enjoy
1/4 teaspoon paprika
1/4 teaspoon cumin
1 tablespoon chili powder
1/4 teaspoon celery seeds
10-12 large shrimp, peeled, deveined and rinsed
salt and pepper to taste
garnish with diced cilantro or parsley
Instructions:
Pour olive oil in pot, next brown the chicken andouille sausage and set aside.  Next add garlic and onions to the pot and cook for 3 to 5 minutes.  Then add remaining ingredients plus chicken andouille to the pot and bring to a boil and then turn down to low-medium and cook for 10 minutes.  Last add shrimp and let cook for another 5 to 10 minutes until the shrimp is opaque and cooked through.  Do not overcook the shrimp.
Serves approximately 4 to 8 people.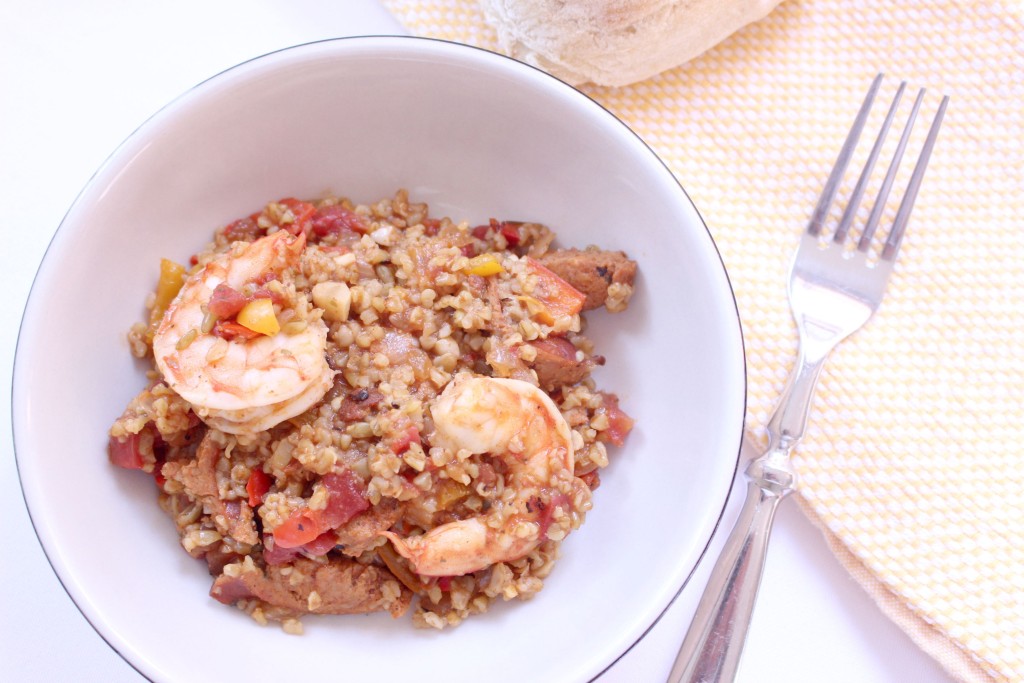 Doesn't that sound delicious and spicy?  Well you have a chance to win your very own Freekeh Cookbook and package of Freekeh roasted green wheat (either original, rosemary sage, or tamari).  All you have to do to enter is complete as many entries below as you can.  The more entries you complete, the greater your chances of winning.
This giveaway is for U.S. Residents Only and ends September 21, 2015.
Disclaimer:  Femme Fitale Fit Club is not responsible for shipment or fulfillment of prize.  Fulfillment of this prize is the responsibility of the sponsor and will be shipped by them.  Winner will be notified via email and have 48 hours to claim their prize before a new winner is selected. This giveaway is in no way associated with Facebook, Twitter, or any other social media outlet.  If you have any questions, or want to have your product featured on my blog contact me directly at Diatta@femmefitalefitclub.com.
Do you like jambalaya? 
Have you ever heard of or tried Freekeh?