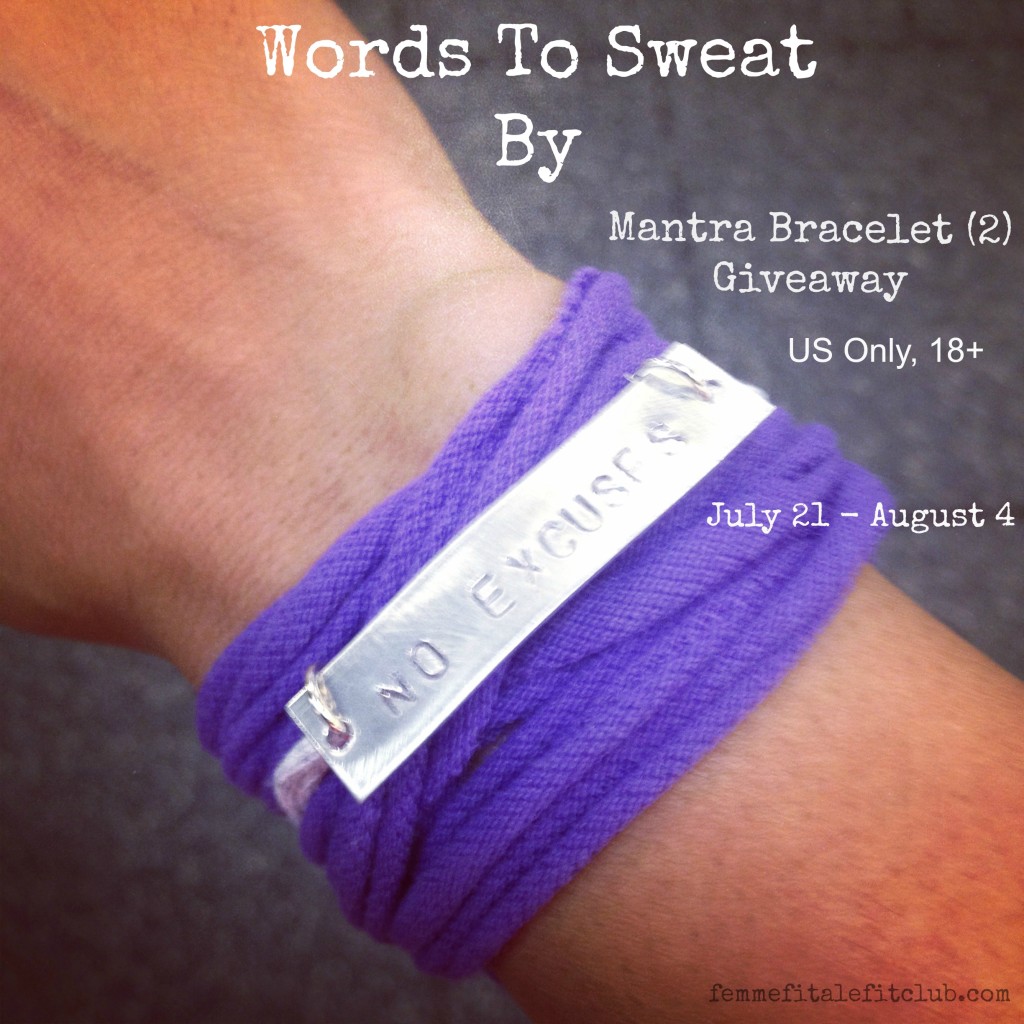 Hi Fitales!  I'm am hanging in there with this DietBet challenge.  It started a week ago and boy oh boy I did not realize I would struggle as much as I have with the food portion but I am confident I will make it through.  Part of my issue is I will make allowances for not following through all the time.  Wednesday my boot camp coach had me do double sprints and while it took me a while to get my mind around that – I made an excuse to not show up the next day.  I slept in and told myself my body needed the rest.
While rest is important, I was making excuses.  I say it all the time and I believe it – No Challenge, No Change so now I need to kick myself in the REAR and kick it up a notch – I have 5 unhealthy pounds to lose.  So I need to keep my eyes on the prize and stay motivated.  Fortunately this is right around the time I discovered "Words To Sweat By".
"Words To Sweat By" is home to motivational fitness accessories for all levels of active women from novice to elite athletes.  These accessories are not only perfect inside and outside the gym, but also fuel a woman's passion for fitness and fashion.   They have a collection of mantra bracelets, scarves, and health and fitness-inspired necklaces that are inspiring, motivating, and at times witty and sassy; just what every woman needs to get to, and through, her workouts.
Check out some of  what they have to offer:
I selected a mantra bracelet with the words "No Excuses" on it because that is what I need to keep focused and going.  I wore it to my group training work out with my personal trainer at the gym with 4 other ladies and they ALL stopped in their tracks to admire my mantra bracelet.  My personal trainer even asked why I didn't get one for her.  She then started talking about how people make too many excuses which is why they aren't hitting their goals and I flashed the bracelet past her eyes again since "No Excuses" are my motivational words.
What I like:  I really like this bracelet.  It is comfortable and very stylish.  It is eye-catching and there is something to be said to be able to look down and get a boost of motivation.
What could be better:  I wish I could just run out to the store around the corner and pick up more.  But not to worry you can purchase them directly from the "Words To Sweat By" website:  http://wordstosweatby.com
And the team at "Words To Sweat By" are so generous, they are offering ONE lucky winner the chance to win 2 mantra bracelets.  You can enter for a chance to win by completing the following entry form.  GOOD LUCK!
Disclaimer:  Femme Fitale Fit Club was not compensated to host this giveaway but was provided a complimentary mantra bracelet.  All opinions in this post are my own honest opionions.  Giveaway is not affiliated with Facebook, Twitter, Pinterest or any other social media sites. All entries will be verified. Winner will be notified via e-mail and have 48 hours to claim prize before new winner is chosen.  Femme Fitale Fit Club is not responsible for the shipping and handling of the prize.  Any questions or concerns regarding this giveaway should be forwarded to Diatta@femmefitalefitclub(dot)com BEFORE entering the giveaway. Void where prohibited by Law.